Modified Production speedway car for sale
Looking for a competative race car with everything done just add fuel and go racing with a shit load of share ??????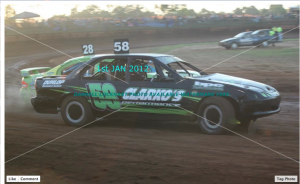 CAR
- Ford EL/EF sedan, Red line roll cage suit a BA (set back style for more rear weight, Body in fantasic condition approx 2 years old, Engine sealed and taged as per rules and the car is registered for the caboulture club in Queensland
Suspension - Brand new AFCO aluminium adjustable coil over shocks and springs
(newly dyno ans serviced from shock doctor)
rear Pahard adjustable from out side of the car (see video below)
Drive Train - Ford 9 inch diff 28 spline, super light weight diff gears, full webbed spool, alloy yoke, alloy tail shaft new bearings …..
Brakes – Will wood pedal box reverse mount, will wood brakes,  howe master cyclinders, PLUS adjutstable brake bias and brake gauges.
Gauges – Autometer- tacho with shift light, oil, water temp, water temp, brake gauges, air fuel ratio (Digital)
Tyres – Range of racing rubber all great condition PLUS a BONUS 4 spares with bead locks value over $1500 plus …
Ignition- Motec M48, with a ignition expander, crane coil, custom race series ECU harness
Fuel system – Holley red pick up to surge tank, Bosh 044 electric fuel pump, aeromotive external adjustable reg
Clutch – Quarter master Hyd center push, 5.5 alloy twin plate 5.5 race clutch, alloy extream lighten flywheel
Cooling - Afco 19″ x 29″ inch alloy radiator, electric water pump Plus a bonus water filter to stop clogging the radiator
Steering – Quick release alloy steering wheel and center release boss, afco 2:1 quick steer
Engine – Ford 4 liter over head cam (please contact for engine specs)
spare CNC billet machine rockers, extensive manifold work, plus more ……………
Spares

– See video attached for spares (you will need a car trailer to take the spares with you4spd and 5 spd boxs, fiberglass panels, stack loads of racks, controll arms, hubs and front end parts, spare set of adjustable rockers suit machanical cam, axles and rear ends, bead lock rims, starters, alts, power steering pumps, spare power steering pump with reduction drive pulley, photo below shows only a few of the spares have a rack full out side plus heaps more …..
CONTACT – Dave   0419 741 121 AFTER  7PM (no time wasters please)
email dkclarkson@bigpond.comany reasonable offers will be considered car is located in brisbane
LOACL PICK UP FROM BRISBANE
Tweet
Related posts: