Archive for the 'Clarkos Performance' Category
Ford 6cyl X-Flow Highly Modified manifolds – still look OEM
Ford 6 alloy head crossflow manifolds that are available on a change over basis,These will out flow you average x-flow manifold as we have done the testing. They have a port variation of around 3 CFM on all 6 cylinders. OEM STD approx 10 CFM diference. These highly Modified intake manifolds flow around 25% better than the stock manifolds. They are suited for classes where a visibly standard Ford manifold is required. They are not cheap as there has been many hours gone into the R&D time & jiging to produce them.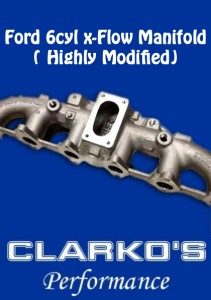 To Find out more here is a FREE YOU TUBE VIDEO
Conditions – I will need your old std manifold posted to me, the extreme make over gets done, then i will post it back to you
THIS IS A EXCHANGE BASIS

Email – sales@clarkosperformance.com
Tweet
Modified Production speedway car for sale
Looking for a competative race car with everything done just add fuel and go racing with a shit load of share ??????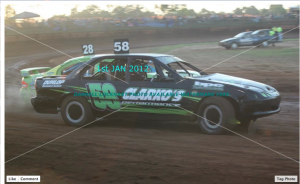 CAR
- Ford EL/EF sedan, Red line roll cage suit a BA (set back style for more rear weight, Body in fantasic condition approx 2 years old, Engine sealed and taged as per rules and the car is registered for the caboulture club in Queensland
Suspension - Brand new AFCO aluminium adjustable coil over shocks and springs
(newly dyno ans serviced from shock doctor)
rear Pahard adjustable from out side of the car (see video below)
Drive Train - Ford 9 inch diff 28 spline, super light weight diff gears, full webbed spool, alloy yoke, alloy tail shaft new bearings …..
Brakes – Will wood pedal box reverse mount, will wood brakes,  howe master cyclinders, PLUS adjutstable brake bias and brake gauges.
Gauges – Autometer- tacho with shift light, oil, water temp, water temp, brake gauges, air fuel ratio (Digital)
Tyres – Range of racing rubber all great condition PLUS a BONUS 4 spares with bead locks value over $1500 plus …
Ignition- Motec M48, with a ignition expander, crane coil, custom race series ECU harness
Fuel system – Holley red pick up to surge tank, Bosh 044 electric fuel pump, aeromotive external adjustable reg
Clutch – Quarter master Hyd center push, 5.5 alloy twin plate 5.5 race clutch, alloy extream lighten flywheel
Cooling - Afco 19″ x 29″ inch alloy radiator, electric water pump Plus a bonus water filter to stop clogging the radiator
Steering – Quick release alloy steering wheel and center release boss, afco 2:1 quick steer
Engine – Ford 4 liter over head cam (please contact for engine specs)
spare CNC billet machine rockers, extensive manifold work, plus more ……………
Spares

– See video attached for spares (you will need a car trailer to take the spares with you4spd and 5 spd boxs, fiberglass panels, stack loads of racks, controll arms, hubs and front end parts, spare set of adjustable rockers suit machanical cam, axles and rear ends, bead lock rims, starters, alts, power steering pumps, spare power steering pump with reduction drive pulley, photo below shows only a few of the spares have a rack full out side plus heaps more …..
CONTACT – Dave   0419 741 121 AFTER  7PM (no time wasters please)
email dkclarkson@bigpond.comany reasonable offers will be considered car is located in brisbane
LOACL PICK UP FROM BRISBANE
Tweet
Ford 6cyl 4.1 Cross Flow hi rise engine Rocker Covers are now avaliable
Have tried to install a early model Alloy cross flow rocker cover and found that if you have rolla rockers they hit on the rocker cover?
try to use the polished steel rocker rocker covers you need 2 of them cut them in half and have to reweld so you can run your rolla rockers?
Well clarkos performance has had hands on experience and know exactly where you are coming from and understand the pain this can cause, so now we have made avaliable ford x flow 4.1 alloy rocker covers that are higher then standard that suit this application you need with no stress
Benefits of the new clarko hi rise rocker covers
- No fouling in the engine rocker cover to rolla rockers
- No risk of the rocker cover gasket leak ( compaired to the polish steel ones)
- We have  bolt on hassle free solution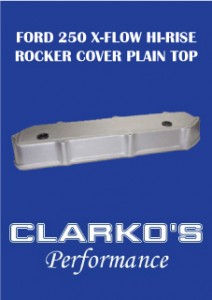 These HI RISE Alloy engine rocker covers come in 2 basic designs, smooth top and ribbed top
So if you are wanting a real solution to a problem that has been a issue for many years all you have to do is click on the link below
Tweet
Holden 6 blue motor after market performance manifolds that work !!
Looking for a after market holden 6 blue motor manifold that will flow better then a std manifold
I know there is not much on the market for holden 6 blue motor however that has now changed
Here is the answers you have been looking for
- Has been flow tested by ME and all 3 runner flow even
- Has a unique internal arrangement for optimum performance
- Cheaper then cutting up and re welding
- Affordable, race tested and proven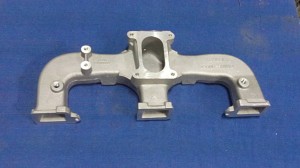 Because there is no real tyre smoking manifold on the market, hence why this Holden blue 6 manifold was created
As long as you have a TUFF holden 6 and you have a manifold issue this manifold will give you more bolt on power
FREE BONUS TIP
you can modify the tabs that holden the manifold to the head and can use it on a red motor head, as what we have seen done before as this holden 6 intake manifold also works well on a holden red head !!!

Free dvd to watch to find out more …………
Tweet
BORG WARNER single rail manual transmission REPLACEMENT ALUMINIUM shifter nut
Require a replacement single rail shifter nut in Aluminium?
Very common in Speedway modified production, super streets and many other devisions as the old nyoln one tends strip or even fail leaving you with a gear stick not connected to the gear box.
These Shifter Nuts suit FORD FALCON XY XA XB XC XD XE XF in the BORG WARNER SINGLE RAIL MANUAL TRANSMISSION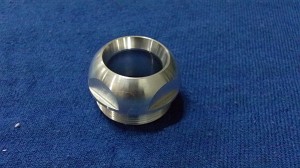 Have you had a the same issue as others where the nylon shifter nut comes out of the gear box?
You can now have a Aluminium replacement shift nut, as i have experienced first hand changing gears and have the gears stick come out.
The Benefits on the aluminium shifter nuts
- Simple to replace
- Avoid having the gear stick come out as the nylon shifter nut appears to be a problem
- Have peace of mind you have reliability
These aluminium borg warner shifter nuts have been tested and proven in the road and race cars, and have been a real solution solver, you can install this yourself !!!
So the answer to your shifter problem is just a click away simple hit the order me now and have your shifter nut expressed posted to you
CLICK HERE to watch video how to install
For all email inquires click

HERE
Tweet
HOLLEY AIR BLEEDS – By Clarkos Performance


Clarkos Performance has a variety of Holley parts and also does the methanol Holley carburetors, manily for 2bbl Holleys in the speedway world.



These brass Holley adjustable airbleeds are great for Holley tuning and Holley performance gains. Fantastic  for Holley air fuel mixture adjustments when on methanol
Can be used in


– 750 Holley


– Holley 350
- Holley dominator
- Just about any Holley
Clarko has the gear and the tools to be able to install
Once you remove the Holley aircleaner you then can see these adjustable air bleeds, they tuck in nicely to the Holley choke tower
For more info about this product


CLICK HERE
For all email inquires click
HERE
Tweet
Steve Conway testing out his 18 year old LJ  Holden Torana at Brisbane Speedway
Steve uses some of Clarkos Performance race gear, like Beadlocks, weld of fittings, pushlock fittings, and some other parts, to view Clarkos Performance parts
Tweet
Wingless Sprint car CRANK ADAPTURE (Lightest in Australia)

Australias Lightest sprint car crank adapture has been designed/ tested/ proven to give, you, the racer the advantage on your competators and a no hassle instulation.

I personaly have bolted up and used the other crank adaptures on the market, so i do know first hand what you are experiening. Trying to do up those nuts with no room to swing that spanner, having to do them up in a pattern so as the nuts dont bottom out on the back of the adapture, taking forever to fit the dam adapture, and taking bark off your fingers in the mean time, plus i have seen realy life cases of where other adptures have come loose simply because you couldn' tighten up the bolts properly, so i know exactly what expierences you are having, as from being there and experiencing it myself.
Because i have seen and experienced the pain, frustration and some results that you have had with some crank adaptures, Clarko and a well know wingless sprint car racer decided enough was enough and decided to upgrade this wingless crank adapture, This wingless sprint car racer uses Clarkos crank adapture on all the engines he recos and sends around Australia,
Why Clarkos adapture?
- Have the lighest crank adapture on the Aussie & New Zealand Market
- Use socket head cap screws and have access for a inhex socket so you can torgue up the bolts
- Able to install in minutes
- No more frustration when installing
- The first production run were sold in hours of being avaliable
- Have market confedience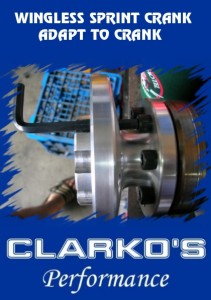 Now that you know the Clarkos wingless sprint crank adapture is avalaible with all these extra features, Designed, tested, race proven, and can be found on race winning wingless sprint cars throught Australia and now haveing that extra advantage on your competators of being the lighest on the market with all the problems now eliminated, and being snaped up with in hours of being avaliable in the market place,
Why were Clarkos Sprint car wingless CRANK ADAPTURES almost sold out in just hours of being avaliable?

Clarko also has a range on Wingless Sprint race parts
- Methanol Injectors
- Crank adapters
- Engine mounts
- Aluminum Pulleys
- Steering wheels
- Power steering brackets
- coil mount
- top flange for throttle body
- Aluminum ans steel sumps
and a whole lot more
CLICK HERE TO VIEW OTHER WINGLESS PRODUCTS
For all email inquires click
HERE
Tweet
Clarko just wants to inform you that we NOW have a exciting new product on the market, that you, the racer have been asking for by phone, email, or in chat. However, I am  letting you know that the 50mm bolt on wheel spacers are now avaliable!!!, They are avaliable in
- Ford 5 stud
- Holden Commodore
50 mm Wheel Spacers
- Great for off setting the wheel for speedway cars
- Made from Billet Light weight T6 Aluminum
- Has a spiggot to locate the rim on the front
- Has a spiggot on the back side to go over axle
- I myself have tested and proven this product
- To read more about this product and wheel studs part numbers
Clarko also has 35mm bolt on wheel spacers avaliable
suit
- Holden Commodore
- Ford 5 stud
- Holden HQ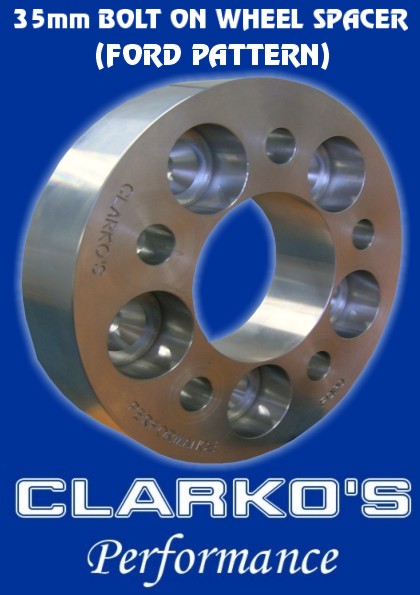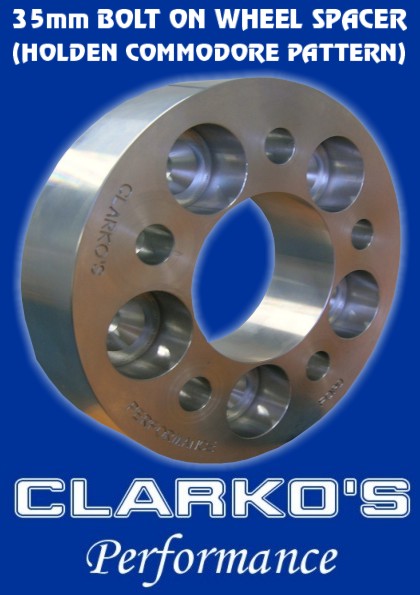 Clarko has also put a video togeather of the wheel spacers.
- Difference on the 35mm and 50mm
- How they look on the car
- How to fit to the car
For all email inquires click
HERE
THANK YOU

FOR YOUR GENEROUS SUPPORT 09/10 SEASON
Clarko would also like to say a very big thank you to MILLERS TOOLING for their support to Clarkos Performance race car this season, Anyone chasing

- Engineering equipmet
- Measuring equipment
- Engineering consumables

Or anything to do with the Engineering world feel free to contact MILLERS TOOLING
Clarkos Performance uses Millers Tooling in all our manufacturing processes, as they deliver hi quality and fantasic price, use the equipment they race winners use !!!
As time goes on I will update my website with incar videos, bloggs, new products, what's new and much more.
feel free to check out my web site, email me if you have any questions, requiring products that cant by else where any feed back would be great and feel free to purchase on line
Thanks Clarko
Tweet
Clarko is pleased to announce the  50mm and 35mm bolt on wheel spacer are now avaliable, You the racers have requested them so Clarkos delivers

What bolt patterns / pcd wheel are avaliable ?
50mm wide – HQ, Ford, Holden Commodore
35mm wide – HQ, Ford, Holden commodore
What wheel studs do i use ?
All the information for wheel stauds can be viewed on the web site
click here for wheel stud information / click on the wheel spacer you require
BENFITS OF THESE BOLT ON WHEEL SPACERS
- Able to push out the wheels for better handling
- Not rub inside of the guards
- Great for car scaling and handling
- Use the race gear/ wheel spacers that the race winners are using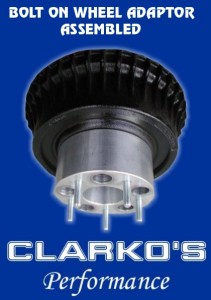 For more information about the Bolt on wheel spacers , wheel studs, wheel adapters how to purchase  and more
click on the following link
Tweet