Archive for the 'Rocker Covers' Category
A Solution to a long term problem
A special report in the spot light section in the totally speedway mag found that Clarko's Performance now has hi rise rocker covers to suit the Ford 250 / 4.1 cross flow 6 cyl alloy and cast iron cyclinder heads, rather then adding a spacer to the EFI styles or having to cut up 2 steel rocker covers, why not just have a purpose made cast aluminium hi rise rocker rocker to suit the application?
Benefits – these are made to clear the rolla rockers
- the cover is supplied with both pcv and breather cap grommets
- has cast in cone style breather shrouds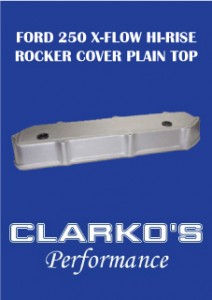 To prevent oil leaks from rocker cover spacers and the time it takes to cut up 2 tin rocker covers to avoid the issue of the rolla rockers hitting, lets face it this is really a 1 stop solution solver.
Check out the Totally Speedway Product spot light December 2011

To find out more CLICK HERE
Tweet
Ford 6cyl 4.1 Cross Flow hi rise engine Rocker Covers are now avaliable
Have tried to install a early model Alloy cross flow rocker cover and found that if you have rolla rockers they hit on the rocker cover?
try to use the polished steel rocker rocker covers you need 2 of them cut them in half and have to reweld so you can run your rolla rockers?
Well clarkos performance has had hands on experience and know exactly where you are coming from and understand the pain this can cause, so now we have made avaliable ford x flow 4.1 alloy rocker covers that are higher then standard that suit this application you need with no stress
Benefits of the new clarko hi rise rocker covers
- No fouling in the engine rocker cover to rolla rockers
- No risk of the rocker cover gasket leak ( compaired to the polish steel ones)
- We have  bolt on hassle free solution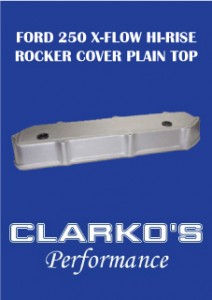 These HI RISE Alloy engine rocker covers come in 2 basic designs, smooth top and ribbed top
So if you are wanting a real solution to a problem that has been a issue for many years all you have to do is click on the link below
Tweet