Ford 6cyl X-Flow Highly Modified manifolds – still look OEM
Ford 6 alloy head crossflow manifolds that are available on a change over basis,These will out flow you average x-flow manifold as we have done the testing. They have a port variation of around 3 CFM on all 6 cylinders. OEM STD approx 10 CFM diference. These highly Modified intake manifolds flow around 25% better than the stock manifolds. They are suited for classes where a visibly standard Ford manifold is required. They are not cheap as there has been many hours gone into the R&D time & jiging to produce them.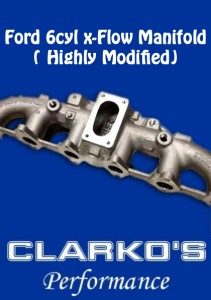 To Find out more here is a FREE YOU TUBE VIDEO
Conditions – I will need your old std manifold posted to me, the extreme make over gets done, then i will post it back to you
THIS IS A EXCHANGE BASIS

Email – sales@clarkosperformance.com
Tweet
Slide on and Bolt on Wheel Spacers
Clarkos Performance has a high quality Billet bolt on wheel spacers,  designed for Australian speedway cars. These have been tested and proven on the race track and used on most winning race cars.
the current and expending range at the moment consists of ..
- 19 mm slide on wheels spacers
- 25 mm slide on wheel spacers
(suit early holden EH, EJ, HT, HD, torana, Ford Falcone, Holden Commodore, HQ)
- 35 mm Bolt on wheel spacers
(suit Holden Commodore, HQ, Ford Falcone )
- 50 mm Bolt on wheel spacers
(suit Holden Commodore and Ford Falcone)
- 30 mm & 40 mm
( Daihatsu Charade)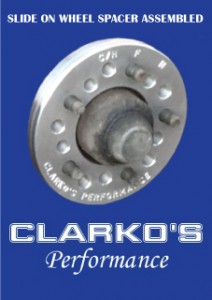 For all your inquires / viewing of products all you have to do is simply
You have nothing to worry about as all orders are expressed posted with tracking number and the products have been tested on many speedway tracks Aussie wide
Here is a free You Tube video about the wheel spacers
Tweet
Modified Production speedway car for sale
Looking for a competative race car with everything done just add fuel and go racing with a shit load of share ??????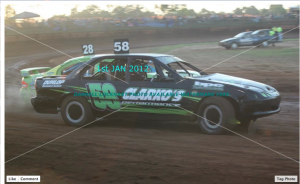 CAR
- Ford EL/EF sedan, Red line roll cage suit a BA (set back style for more rear weight, Body in fantasic condition approx 2 years old, Engine sealed and taged as per rules and the car is registered for the caboulture club in Queensland
Suspension - Brand new AFCO aluminium adjustable coil over shocks and springs
(newly dyno ans serviced from shock doctor)
rear Pahard adjustable from out side of the car (see video below)
Drive Train - Ford 9 inch diff 28 spline, super light weight diff gears, full webbed spool, alloy yoke, alloy tail shaft new bearings …..
Brakes – Will wood pedal box reverse mount, will wood brakes,  howe master cyclinders, PLUS adjutstable brake bias and brake gauges.
Gauges – Autometer- tacho with shift light, oil, water temp, water temp, brake gauges, air fuel ratio (Digital)
Tyres – Range of racing rubber all great condition PLUS a BONUS 4 spares with bead locks value over $1500 plus …
Ignition- Motec M48, with a ignition expander, crane coil, custom race series ECU harness
Fuel system – Holley red pick up to surge tank, Bosh 044 electric fuel pump, aeromotive external adjustable reg
Clutch – Quarter master Hyd center push, 5.5 alloy twin plate 5.5 race clutch, alloy extream lighten flywheel
Cooling - Afco 19″ x 29″ inch alloy radiator, electric water pump Plus a bonus water filter to stop clogging the radiator
Steering – Quick release alloy steering wheel and center release boss, afco 2:1 quick steer
Engine – Ford 4 liter over head cam (please contact for engine specs)
spare CNC billet machine rockers, extensive manifold work, plus more ……………
Spares

– See video attached for spares (you will need a car trailer to take the spares with you4spd and 5 spd boxs, fiberglass panels, stack loads of racks, controll arms, hubs and front end parts, spare set of adjustable rockers suit machanical cam, axles and rear ends, bead lock rims, starters, alts, power steering pumps, spare power steering pump with reduction drive pulley, photo below shows only a few of the spares have a rack full out side plus heaps more …..
CONTACT – Dave   0419 741 121 AFTER  7PM (no time wasters please)
email dkclarkson@bigpond.comany reasonable offers will be considered car is located in brisbane
LOACL PICK UP FROM BRISBANE
Tweet
A Solution to a long term problem
A special report in the spot light section in the totally speedway mag found that Clarko's Performance now has hi rise rocker covers to suit the Ford 250 / 4.1 cross flow 6 cyl alloy and cast iron cyclinder heads, rather then adding a spacer to the EFI styles or having to cut up 2 steel rocker covers, why not just have a purpose made cast aluminium hi rise rocker rocker to suit the application?
Benefits – these are made to clear the rolla rockers
- the cover is supplied with both pcv and breather cap grommets
- has cast in cone style breather shrouds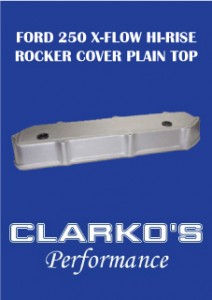 To prevent oil leaks from rocker cover spacers and the time it takes to cut up 2 tin rocker covers to avoid the issue of the rolla rockers hitting, lets face it this is really a 1 stop solution solver.
Check out the Totally Speedway Product spot light December 2011

To find out more CLICK HERE
Tweet
Ford 6cyl 4.1 Cross Flow hi rise engine Rocker Covers are now avaliable
Have tried to install a early model Alloy cross flow rocker cover and found that if you have rolla rockers they hit on the rocker cover?
try to use the polished steel rocker rocker covers you need 2 of them cut them in half and have to reweld so you can run your rolla rockers?
Well clarkos performance has had hands on experience and know exactly where you are coming from and understand the pain this can cause, so now we have made avaliable ford x flow 4.1 alloy rocker covers that are higher then standard that suit this application you need with no stress
Benefits of the new clarko hi rise rocker covers
- No fouling in the engine rocker cover to rolla rockers
- No risk of the rocker cover gasket leak ( compaired to the polish steel ones)
- We have  bolt on hassle free solution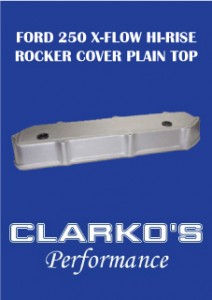 These HI RISE Alloy engine rocker covers come in 2 basic designs, smooth top and ribbed top
So if you are wanting a real solution to a problem that has been a issue for many years all you have to do is click on the link below
Tweet
How to lighten your Borg Warner diff gears
As many AMCA, modified production, super street cars are looking for that edge over there competitors, Many people are using mini spools, full spools, aliminium spools and all sorts of advantages to attain that edge,  Clarko has been able to help them by lightening diff gears, as seen on many ford 9 inch diff gears, Clarko is able to machine the Borg Warner diff gears.
Below Clarko from Clarkos Performance has attached a video AS SEEN ON YOU TUBE by himself the steps involved to machine Borg Warner diff gears
for more information CLICK HERE to contact clarko

Tweet
Holden Commodore Aluminium Pulleys – Why are they so wonderful to use?
If you have a Holden V6 engine and you would want to give it an extra bit of edge, maybe you could try going for an Aluminium billet pulley. Holden commodores with Holden V6 engine in the ecotec (series 2) and non ecotec (series 1) comes custom fitted from the factory with a press steel pulley.  This press steel pulley drives the alternator, power steering, water pump and other accessories. Aluminium billet pulleys are lightweight and nicer for your engine.  These replacement OEM pulleys are made of the highest quality billet T6061 billet aluminium, which is much better than the cheaper cast aluminium or the steel ones available.
Using OEM replacement pulleys dress up your engine and are wonderful to have for show cars. These replacement OEM pulleys are useful for ecotec engine power steering, alternator, and water pump whereas reduction drive pulleys suit non ecotec and ecotec series 1 and 2 engine. They are 20% larger than the standard one available in power steering, alternator and water pump.
Replacement OEM pulleys are a replacement bolt on bolt for ecotec V6 engine (series 2). These are available in the same size as the factory-fitted holden pulleys. Hence, these can easily replace the factory ones, and you can do the replacement yourself using the same sized fan belt.
The process by which the replacement OEM aluminium pulley can be fitted is very easy is explained here: First, you need to remove the fan belt. This can be done by undoing the bolts that hold the power steering, alternator and water pump pulley. Now, remove the old press steel pulleys. Attach the new billet OEM aluminium pulleys in the empty place. Now, tighten the bolts back on. Attach the fan belt, and your engine is all spruced up.
Why must you use an OEM aluminium reduction pulley?
The main use of reduction pulleys is to slow down the RPMs (Revolutions per minute) of parts such as power steering to avoid cavitation, oil boiling and frothing, and the breaking down of the consistency of oil. These are 20% larger in size thus it is easier for them to do so especially for race cars. These are used for water pump to avoid cavitation and decrease the speed of the water that goes through the engine block and that can reduce the cooling efficiency of an engine. They are also used for alternators to avoid over revving of the alternator that can cause it to fail and stop working.
These pulleys have been used extensively in race cars such as modified production, wingless sprint cars and many other speedway classes and other race divisions available in ecotec engine  series 1 and non ecotec engine series 2.
These pulleys are especially popular and widely used in Holden V6 engines across Australia and New Zealand. They have been race tested and have a proven performance record. These are a great accessory to have for your engine

HERE IS A YOU TUBE VIDEO TO SEE MORE
Tweet
Clarko – Hollyman team up for 30/30 at Gympie speedway (may 2011)
Gympie speedway held a 30 30 for modified production in may 2011, which saw over 20 cars attend
just as the feature for the super streets was nearing completion the sky opened up and rained so the 30 30 was cancled
Never seen the Gympie track before it was a eye opener the track had a hill, hair pin, dipper and a dog leg never seen anything like it before
so this was a test,  Clarko and Luke had a ball, the car was set up for Brisbane speedway where the track gets real rutty , so we were chasing car set up at the new track. Due to rain on the last event the 30 30 was not run
Clarko would like to thank the crew at Gympie for there help
Luke Hollyman, Jason Beer and crew, Matty (the baby oil man) and crew, Kim Lucas, Peter Watling
next event Brisbane june 2011 for the 50 lapper
To see what race parts clarko has for sedans, amca, wingless sprint  Clarkos Performance
A snip from the weekend
Tweet
Wheel Spacers – Why are they needed?
Wheel Spacers, as the name suggests, are used to increase the space between the wheel and the car body. Wheel spacers are commonly made of aluminium and are installed between the car's hub and wheel. Wheel Spacers are used for a variety of reasons:
Better stance: The owners of cars sometimes wish for a better stance for their cars to increase the stability of the car at higher speeds especially related to the braking, maintaining the stability of the car at high speeds, or while maneuvering curves. One of the ways of enhancing the stance of your car is by increasing the wheelbase of your car. Wheel spacers are an easy-to-install option for you to achieve the same. Good quality wheel spacers are very useful for both racing cars and normal cars. They cost much less as compared to buying a set of wider tires for the same purpose. Wheel spacers help in increasing the distance between the axle and the wheel hub hence maximizing the wheelbase without actually changing the tires or the suspension equilibrium.
Correct the incorrect offset: Wheel Spacers are also good to have when you want to install different offset rims in your car or reposition the offset of the rim of your car. If you like to do off-the-road or all-terrain driving, then wheel spacers must be used to increase the space between the wheels of the car and the car itself. This provides a safer, more stable driving experience in rugged terrains. Aluminium wheel spacers are ideal for All Terrain Vehicles as they provide an additional balance required for all terrain driving or for race cars.
Better Appearance: Wheel Spacers provide a more aggressive, macho look to large cars. They are also utilized for better handling of the car.
Essentially, there are two types of wheel spacers: Slide-on wheel spacers and Bolt-on wheel Spacers.
Slide-on Wheel Spacers:  These Wheel Spacers are most commonly used.  These just slide on the existing bolts. You need to simply remove the rim/wheel from the axle, slide the wheel spacer over the axle studs, and refit the rim/wheel to the axle. These wheel spacers are available in different thicknesses, ranging from 3, 6, 10 and 12 mm.
Bolt-on Wheel Spacers: These are bolted to the car's hub on which the wheels are then fitted. To do this, the rim/wheel is first removed. The wheel spacer is installed over the end of the axle studs. A standard style wheel nut is used to hold the wheel spacer to the end of the axle. It must be ensured that the axle stud or wheel nut does not protrude past the outside face of the bolt on the wheel spacer. The other set of holes will have the studs protruding, and the rim/wheel will be fitted here. Bolt-on wheel spacers are available in thicknesses of 35 and 50 mm.
You can also find alloy wheel spacers which come in billet aluminium or cast aluminium. Aluminium or a combination of aluminium and another alloy provides the much needed additional strength to the wheel spacer and are the most desired in the market today. The installation of wheel spacers is very simple as explained above, and your manufacturer can guide you further. Try aluminium wheel spacers for a better road performance.
Technical Data
Holden HQ is 5 x 120.6 mm PCD
Holden commodore is 5 x 120 mm PCD
Ford stud pattern is 5  x 114.3mm PCD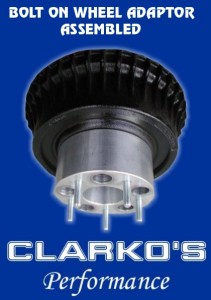 For more information
CLICK HERE
Tweet
Totally speedway  interview with Clarkos Performance
Totally Speedway magazine – Daniel Powell catches up with Dave Clarkson from Clarkos Performance. As alot of people are using the word Clarkos Performance around the speedway track, on page 46 of totally speedway mag april 2011 you will find what all the talk is about and how to contact Clarkos Performance ……
Tweet